Stories from around the campfire.
Discover fresh insights from our staff members, friends, and partners.
---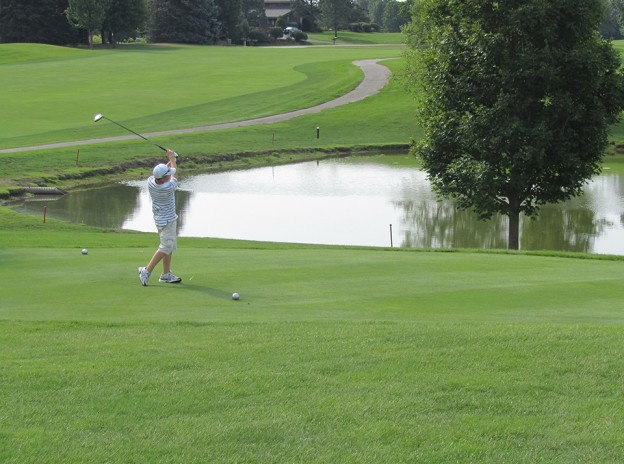 (Above: Jake golfing at our Campfire Classic 2012)
While it seems like there are new "holidays" popping up everywhere (National Doughnut Day, Pancake Day and Origami Day), we want to take a moment to celebrate April, National Humor Month. We have all had days where we need a bit of cheering up, and we probably have all heard the phrase "laughter is the best medicine."
With the hope of learning about how humor, good friendships and camp have a lasting positive impact on kids, we had a chat with Jake, a North Star Reach Camp on the Move camper.
Jake, can you tell us about your camp experience?
"I went to Victory Junction, another SeriousFun Camp in North Carolina. My favorite thing about camp was all of the activities we did. We got to schedule an activity for two hours every day. This past year I did archery. It was great because I really had the time to learn and improve my skills during the week."
April is National Humor Month, can you tell us a little about how humor has helped you through tough experiences?
"Humor definitely helps get me through tough stuff. For example, when I have been in the hospital – I go to C.S. Mott Children's Hospital – the doctors and I joke back and forth about University of Michigan vs. Ohio State.  It helps a lot to be able to laugh and have some fun. The doctors at U of M are really great. And at camp – everyone really makes you laugh – there is always something going on that will get you laughing. The first year – when you don't know many people, you don't know what camp is going to be like and maybe you're a little nervous – it helps a lot to be able to laugh and just have fun. There is a lot of laughing at camp."
What types of things would make you and your friends laugh at camp?
"We laugh a lot at camp. A lot of funny things happen when you are together with the kids in your cabin. For example, we were trying to go to bed, and a marshmallow war broke out. Or another time we played hot potato with a teddy bear.  Or eating a donut with our eyes closed and no hands – frosting goes everywhere! Things like that really made us laugh."
How are your friendships from camp still impacting you today?
"The friendships you make really impact you a long time after camp. It really helps to keep in touch – remembering who you met and remembering all the things you did together. Sometimes during the year when you are with kids at school, you can't always do the stuff that they are doing – and maybe you just can't do what they are doing at the moment, but you can remember that there are other kids who feel the same way that you do. It helps to know you aren't alone and you have friends that understand and have similar struggles."
We heard that you are an Eagle Scout candidate – congratulations! Can you tell us about the Eagle Project you are doing?
"I have been in Boy Scouts for three years. As an Eagle Scout candidate you have to complete an Eagle Scout project for an organization of your choice. My dad made the suggestion that I pick North Star Reach, I really liked the idea of being able to contribute to the camp as it is being developed. I'm building picnic benches for the camp, and I'm working on the project right now. It won't be done for a while but I'm excited about it!
Thanks to Jake for giving us insight into the many benefits of camp and the importance of humor. We hope that each of you have a laughter-filled day! Keep smiling.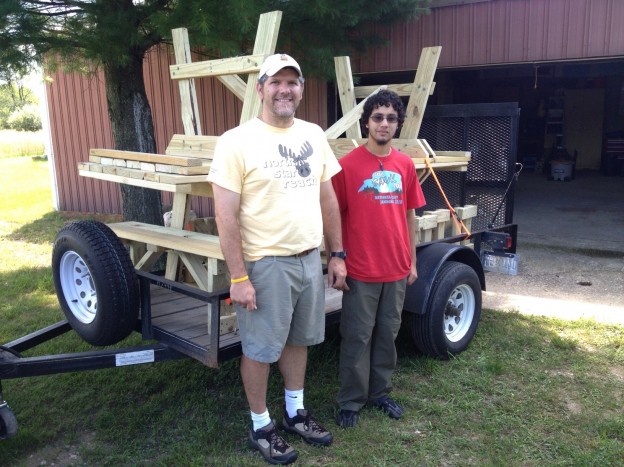 Building a modern, accessible camp that honors tradition and respects its roots
As we all share a collective sigh of relief that winter is finally over, North Star Reach is excited about the progress being made on camp construction and development. To mark the start of a busy spring and summer, we wanted to share an update on all things camp development. We grabbed Camp Operations Director, W. Patrick Smith (In photo on left with volunteer who built accessible picnic tables for camp) to get the inside scoop on construction progress, how camp will be universally accessible and learn about the theme of North Star Reach camp.
Site Prep:
In regards to site preparation, Patrick provided some insight, "In order to get the camp ready for construction, certain areas had to be cleared before April 1. While camp designs are mainly completed, the final review of the construction documents and infrastructure plans is underway.  We are currently on track to start construction this summer and still plan to open camp in late 2015."
Universally Accessible:
One of the highest priorities for the configuration of camp is that it is universally accessible. "We want everything to be accessible in a convenient way. Paul Newman wanted camp to be barrier free. Our goal and priority is to make barrier free facilities for kids with all kinds of abilities," said Patrick. While camp is outside, a lot of thought has been put into making sure everything is built to be accessible to the campers. For example, there will be only ONE ramp on the camp grounds and that is to help campers get onto the stage in the multipurpose building. Also, the amphitheater aisles, all doorways, paths, etc. are spaced wide enough for wheelchairs. These are just a few of the ways camp is being made easily accessible.
A big accomplishment in making North Star Reach camp accessible to all is that the camp will meet ADA requirements while still highlighting its natural surroundings. Patrick stated, "We are trying to be thoughtful and intentional with the camp design– we are thinking about the campers. We also want camp to feel like it belongs where it is and that it fits well into the environment. We have an amazing natural setting and we want to highlight that through a contemporary rustic feel in a traditional, Michigan woods way."
Reuse/Recycle:
Another unique element of camp construction is the effort to reuse materials from the previous camp that was on the Pinckney property, Fresh Air Camp. With the goal of being resourceful, North Star Reach also wants to pay homage to the history that belongs to the grounds. Patrick explains, "So much of camp is about tradition –we actually want it to feel like camp has been here a long time and we want to respect the history that is here.  We don't want to lose that history and the sense of tradition."
Theme of Camp:
North Star Reach hopes to be the quintessential example of camp in the woods. When asked about the theme or unique elements of North Star Reach, Patrick shared, "The theme of this camp, is camp. We really want the kids to experience typical camp in the woods. We don't want it to be different – we want it to be traditional and we want our campers to have the same opportunities that other kids have at camp. We also value giving the kids experiences that encourage independence, self-reliance, confidence and friendship. We want them to find things that they like to do!  And even things they don't like to do. Camp is a safe place to do that – a safe place to experience life. As it has been said before, we want camp to be spectacularly average. It's about doing all of the 'normal' camp activities – fishing, swimming, hiking, zip lining, group activities and singing camp songs. We just want our kids to be kids."
As the year goes on, construction begins and progress continues, stay tuned to read the latest and greatest about camp. A fun way to do that is at our new Instagram account – follow us today at http://instagram.com/northstarreach .