Stories from around the campfire.
Discover fresh insights from our staff members, friends, and partners.
---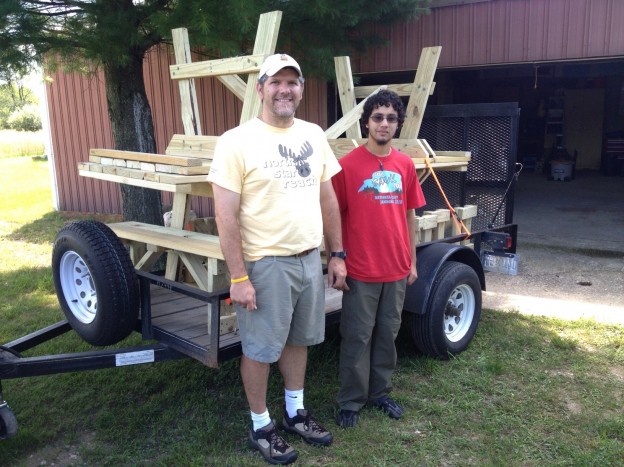 Building a modern, accessible camp that honors tradition and respects its roots
As we all share a collective sigh of relief that winter is finally over, North Star Reach is excited about the progress being made on camp construction and development. To mark the start of a busy spring and summer, we wanted to share an update on all things camp development. We grabbed Camp Operations Director, W. Patrick Smith (In photo on left with volunteer who built accessible picnic tables for camp) to get the inside scoop on construction progress, how camp will be universally accessible and learn about the theme of North Star Reach camp.
Site Prep:
In regards to site preparation, Patrick provided some insight, "In order to get the camp ready for construction, certain areas had to be cleared before April 1. While camp designs are mainly completed, the final review of the construction documents and infrastructure plans is underway.  We are currently on track to start construction this summer and still plan to open camp in late 2015."
Universally Accessible:
One of the highest priorities for the configuration of camp is that it is universally accessible. "We want everything to be accessible in a convenient way. Paul Newman wanted camp to be barrier free. Our goal and priority is to make barrier free facilities for kids with all kinds of abilities," said Patrick. While camp is outside, a lot of thought has been put into making sure everything is built to be accessible to the campers. For example, there will be only ONE ramp on the camp grounds and that is to help campers get onto the stage in the multipurpose building. Also, the amphitheater aisles, all doorways, paths, etc. are spaced wide enough for wheelchairs. These are just a few of the ways camp is being made easily accessible.
A big accomplishment in making North Star Reach camp accessible to all is that the camp will meet ADA requirements while still highlighting its natural surroundings. Patrick stated, "We are trying to be thoughtful and intentional with the camp design– we are thinking about the campers. We also want camp to feel like it belongs where it is and that it fits well into the environment. We have an amazing natural setting and we want to highlight that through a contemporary rustic feel in a traditional, Michigan woods way."
Reuse/Recycle:
Another unique element of camp construction is the effort to reuse materials from the previous camp that was on the Pinckney property, Fresh Air Camp. With the goal of being resourceful, North Star Reach also wants to pay homage to the history that belongs to the grounds. Patrick explains, "So much of camp is about tradition –we actually want it to feel like camp has been here a long time and we want to respect the history that is here.  We don't want to lose that history and the sense of tradition."
Theme of Camp:
North Star Reach hopes to be the quintessential example of camp in the woods. When asked about the theme or unique elements of North Star Reach, Patrick shared, "The theme of this camp, is camp. We really want the kids to experience typical camp in the woods. We don't want it to be different – we want it to be traditional and we want our campers to have the same opportunities that other kids have at camp. We also value giving the kids experiences that encourage independence, self-reliance, confidence and friendship. We want them to find things that they like to do!  And even things they don't like to do. Camp is a safe place to do that – a safe place to experience life. As it has been said before, we want camp to be spectacularly average. It's about doing all of the 'normal' camp activities – fishing, swimming, hiking, zip lining, group activities and singing camp songs. We just want our kids to be kids."
As the year goes on, construction begins and progress continues, stay tuned to read the latest and greatest about camp. A fun way to do that is at our new Instagram account – follow us today at http://instagram.com/northstarreach .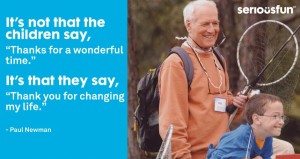 North Star Reach Welcomes Sean Byrne as the Board of Directors Chairperson
All of us at North Star Reach want to take a moment to give a warm camp welcome to Sean Byrne, our new Board of Directors Chairperson.  Mr. Byrne brings to our team years of experience supporting camps and campers, and he has a clear perspective of the powerful impact it has on children. We were able to catch up with him at the recent FrenchieSkate event and asked a few questions about his role and North Star Reach.
How did you get involved with North Star Reach?
I spent six years on the Board of Directors of Flying Horse Farms, a SeriousFun Children's Network sister camp outside of Columbus, Ohio. During that time I worked with Patrick Smith (North Star Reach Operations Director), so when we both ended up in Michigan, I reached out to him. This was an easy decision – it is a great opportunity to be involved with such a wonderful organization.
Can you talk about the progress you've seen North Star Reach make in the last year?
The progress has been truly incredible – we've really turned the corner.  As you can imagine, it takes a long time to build the infrastructure for a camp like North Star Reach. In the last year it seems like everything has come together. There was a lot of progress and success with the capital campaign, and now we will be breaking ground this summer.  I'm very confident we will be open for camp in the fall of 2015.
Speak a little about the impact camp has on kids and why you are involved:
There is a wonderful Paul Newman quotation that speaks about the impact camp has on kids: "It's not that these children say, 'Thanks for a wonderful time.' It's that they say, 'Thank you for changing my life.'" To be involved in such a powerful mission, seeking to positively impact the lives of kids, is an incredible thing. Seeing the commitment of people coming together to provide camp experiences to kids who wouldn't otherwise be able to go is an amazing thing. I feel very lucky to be a part of that.  Another important thing to note is that we have a great team. That is how we've gotten where we are. We have a fantastic team, the best volunteers and incredible support from the community.
---
Mr. Byrne is an attorney and business advisor from Grosse Pointe Woods.  He previously served on the Board of Directors of Professional Bank in Coral Gables, FL, and also served as President and General Counsel of a firm managing portfolio companies in manufacturing, retail, real estate development and transportation. Mr. Byrne is a graduate of University of Michigan Law School and the University of Richmond, where he played tennis.