Stories from around the campfire.
Discover fresh insights from our staff members, friends, and partners.
---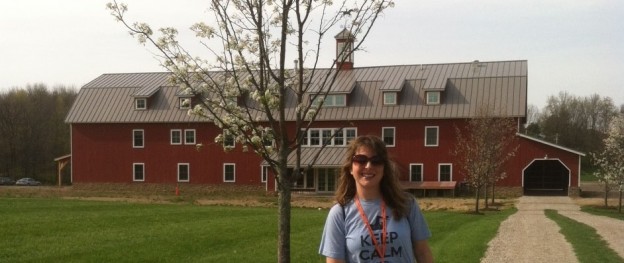 Last weekend I volunteered at Flying Horse Farms for a Spring Family Camp Weekend.  Located in Mount Gilead, Ohio, Flying Horse Farms belongs to SeriousFun Children's Network, a family of camps that provides traditional camp experiences to children with serious illnesses. Flying Horse Farms describes its camp as magical, transforming, fun.  I have to say those three words describe my experience exactly.
I set out to camp to better visualize what North Star Reach will be like once the buildings are built and we welcome our first set of campers.  Walking up to the dining hall for my training Friday morning, I began to envision through Flying Horse Farms what North Star Reach will be like. This is camp I thought to myself.  I got goose bumps dreaming of the day when North Star Reach is built and operational and our first campers arrive at camp.  What an awesome day that will be.
I was assigned as a "sidekick" for the weekend to an amazing family of six.  My role was to ensure the family experienced the magic of camp.  My fellow sidekick and I met the family at their car upon arrival.  As their four daughters were stepping out of the car, one of the girls grabbed my hand and said with a huge smile, "This is AWEsome". This is camp. I think she held my hand most of the weekend, leading me from activity to activity.
The family is currently living at the Ronald McDonald house so the girls don't have much opportunity to run and play and just be kids.  That first night the four year old had me doing sprints back and forth outside the dining hall because the running and fresh air felt so good! This is camp.
Watching my camper friend go from craft to craft in the arts and crafts building was so much fun.  Seeing the joy in her eyes over her tie dyed pillow case and freshly painted bird house was priceless.  This is camp.
On Saturday afternoon, I took three of the girls over to the lake for some fishing.  It was a beautiful spring day and we were all so happy to be outside.  I was in charge of baiting the big, fat crawler worms on the hook which they loved watching me squirm over. This is camp.  The girls caught a bunch of fish that day and I caught a glimpse of how camp was transforming us all.
After dinner, I realized I hadn't emailed, texted, posted, tweeted, pinned or face-timed all day – I had completely uplugged! This is camp.
By the end of the evening Saturday, I was feeling tired, but refreshed.  I was feeling sad camp was ending, but happy to have experienced it.  I couldn't image how I was going to part ways with my new camp family on Sunday.  This is camp.
But when Sunday came, I said goodbye knowing that I had helped give this family the gift of a magical, transforming, fun weekend; one that we would all remember for the rest of our lives.  This is camp.
I keep this t-shirt on my office wall that my camp friend made me that weekend to remind me of what is important.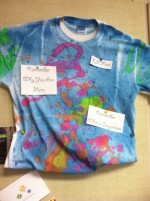 My job is to tell the story of the healing powers of camp and the magical transformations that occur.  I hope you follow along with me on North Star Reach's journey as we fulfill our mission to  offer life-changing camp experiences to children with serious health challenges and their families.  This is Camp and Camp is a Prescription for Fun! 
Marji
North Star Reach Marketing Specialist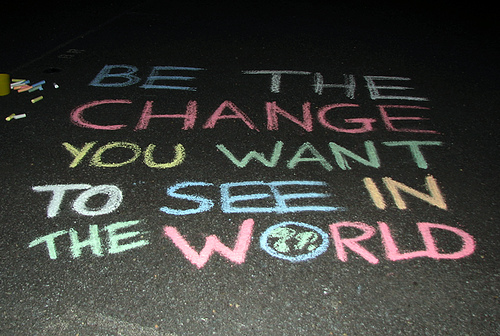 The Positive Energy of Camp
What it is like to volunteer at a camp for children with special medical needs
By Jenni Attie, North Star Reach Marketing Committee Member and Volunteer
For five summers in a row (2003-2008), I volunteered at The Hole in the Wall Gang Camp in Connecticut. The Hole in the Wall Gang Camp is the camp Paul Newman founded so kids with serious medical conditions could experience all that camp has to offer at no charge to the children or their families. His legacy of SeriousFun Camps worldwide has stayed true to that vision.
Each summer, after a week at camp, I always returned home feeling revived. I returned to work feeling like I had been on vacation. There was always so much positive energy! I remember standing in the cafeteria at camp with 120 campers who were singing, dancing, and screaming, as they thoroughly enjoyed their camp experience!
The Hole in the Wall Gang Camp was always such a welcoming, supportive environment. I know that to be true for the volunteers and staff, as well as the campers. I grew and learned every summer that I was there.
With North Star Reach being built, I hope you have a chance to volunteer at camp and to experience some of the many joys of camp.  I volunteered as a nurse, but there are many volunteer roles at camp that don't require medical expertise. Volunteers are taught basic medical details, as there are always lots of volunteers with medical experience ready to take care of the campers.
I stopped volunteering when I became a parent, but having my own children gave me an increased awareness of just how important camps like The Hole in the Wall Gang and North Star Reach can be for children and their families.
I am so excited that North Star Reach will be bringing the opportunity to attend camp to more kids right here in the Midwest. I have seen firsthand the difference a camp like this can make in the lives of the children, the families, and yes, even the volunteers.
If you're wondering how volunteering at a camp can become part of your summer plans, click here  for more information.